---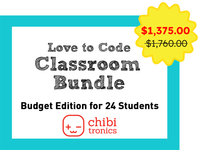 Budget Edition - Love to Code Classroom Bundle - 24 students
Build circuits and teach code with Chibitronics Love to Code! This classroom bundle has everything you need for students to build and program their very own circuits. This bundle includes:
*Items may be shipped in bulk packaging rather than individual retail packaging
This classroom bundle works great for sharing between multiple classrooms! The Chibi Chips unclips easily from student projects for storage and reuse in future projects.  We include plenty of conductive fabric tape patches so students can reuse LEDs between projects.
This bundle also comes with a teacher copy of Love to Code Volume 1 in both text code and block-based code versions, packaged in a handy binder. Teachers are free to photocopy and share the templates and instructions or download the entire book here. If you are interested in a classroom set that includes pre-printed books for students, check out our Book & Binder bundle here.

Please note: we have switched from copper tape to conductive fabric tape in our classroom packs. Conductive fabric tape works just like copper tape, but does not tear as easily, making it friendlier for getting started with paper circuits. To learn more about conductive fabric tape, please visit https://chibitronics.com/tapes/
This bundle represents a retail value of $1,760.00, so you save $335.00 when purchasing the bundle.  If you are an educator, please learn about our discounts for educators.