---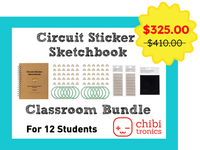 Circuit Sticker Sketchbook Kit Classroom Bundle
This classroom bundle collects supplies needed to teach a class of 12 students all the activities in the Circuit Sticker Sketchbook, our most popular guide for getting started with paper circuits. We also included extra LED stickers, copper tape and fabric patches for students to design and create their own projects based on what they've learned from the guided sketchbook activities!
Included in the bundle are:
*These items come packaged in one Circuit Stickers Classroom Pack - White and one Red/Yellow/Blue Circuit Stickers Classroom Pack.

Due to shipping limitations, batteries are not included in this bundle. We recommend using CR2032 3 volt coin cell batteries.

Please note: we have switched from copper tape to conductive fabric tape in our classroom packs. Conductive fabric tape works just like copper tape, but does not tear as easily, making it friendlier for getting started with paper circuits. To learn more about conductive fabric tape, please visit https://chibitronics.com/tapes/
For Circuit Sticker Sketchbook lessons resources, please check out our tutorial page!