---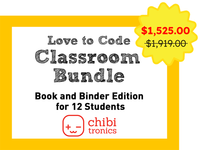 Book & Binder Edition - Love to Code Classroom Bundle - 12 students
Build circuits and teach code with Chibitronics Love to Code! This is a deluxe bundle that comes with a full activity book and powered binder for each student along with lots of additional supplies for exploring and learning!
This classroom bundle contains:
*LED stickers and fabric circuit tape come packaged as three White Circuit Sticker Classroom Packs and two Red/Yellow/Blue Circuit Sticker Classroom Packs.
Please note: we have switched from copper tape to conductive fabric tape in our classroom packs. Conductive fabric tape works just like copper tape, but does not tear as easily, making it friendlier for getting started with paper circuits. To learn more about conductive fabric tape, please visit https://chibitronics.com/tapes/
This bundle represents an individual retail value of $1,919 so you save $394 when purchasing the bundle. 
Kits may be shared between 2 or more students to serve larger classroom sizes. This bundle contains more than 500 LEDs, giving students plenty of materials to work and create with!